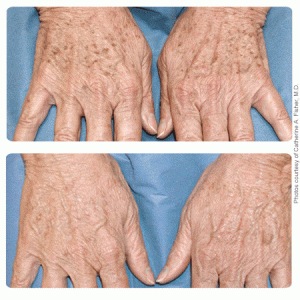 BBL (broad-band light) is a very effective treatment for brown spots, red spots, acne, and skin discolorations. Using highly specialized filtered light, BBL targets specific skin lesions, while minimizing trauma to the surrounding skin.  This skin brightening procedure can be combined with skin tightening (SkinTyte) in our "Tight and Bright" package. BBL for removal of brown spots on the hands is combined with Radiesse filler in the hands in our "New York Hand Lift" for hand rejuvenation. Read more about the "New York Hand Lift" here.
WHO IS A GOOD CANDIDATE?
Brown spots on the face
Red spots on the face
Rosacea
Fine blood vessels on the face
Signs of aging
Brown spots on the chest or hands
BBL works best in patients who have contrast between the colored lesions and their natural skin tone. It patients with extensive freckling, BBL is performed after pre-treatment with bleaching creams. Click here to read more about using broadband light (BBL) to banish brown spots on the Travel Beauty Blog by Dr. Dara Liotta.
HOW IS THE PROCEDURE PERFORMED?
Typically, three sessions, spaced two weeks apart are required for most effective removal of brown spots. The procedure takes about 15 minutes, and feels like the snapping of a rubber band on the skin.  Most patients only find the treatment mildly uncomfortable.
Different filters can be used with the light treatment to target specific skin conditions or concerns.  Filters available in Dr. Liotta's practice include:
420: AKA "blue light". This filter is a great adjunctive treatment for acne.
515: This filter is great for freckles, sunspots and darker pigment. Please note that all patients receiving this treatment must first have an examination looking for abnormal moles or worrisome skin lesions.
560: This filter targets "red." It is great for flushing and rosacea. It can also be used for spider veins and blood vessels around the nose and cheeks.
ST filters: These filters are used for non-invasive skin tightening. By heating up the dermal layer of the skin, this type of treatment can cause collagen contraction and skin tightening.
WHAT IS THE RECOVERY?
After treatment, pigmented spots will initially become darker, and will then flake off around 2 weeks after the treatment.  BBL treatment for brown spots requires no real downtime. There is occasionally slight redness of the skin, but when this occurs, it generally subsides in the few hours following your treatment.  You can use moisturizer or coverup on the face immediately following the procedure.
SCHEDULE A CONSULTATION WITH DR. LIOTTA
For more information on laser skin treatments, please contact us today. Dr. Liotta can meet with you for a confidential consultation to answer any questions you may have.