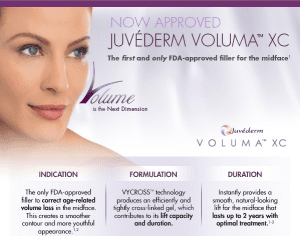 The newest non-surgical option for volume restoration in the face is JuvedermVoluma XC by Allergan, which just became available in the USA, and NYC, this past December.  It is the first and only filler FDA approved to instantly add volume to the cheek area. As we age, we tend to lose volume in the cheek area, and the natural fat pad of the cheek begins to drop, accentuating the nasolabial fold (thanks a lot, Gravity!).
Juvederm Voluma adds volume back into the cheek area (up where is should be), resulting in a subtle, natural lift that helps restore a well-rested, youthful look to the midface and improve the appearance of the nasolabial folds. Juvederm Voluma is an injectable hyaluronic acid gel. The good news is that Juvéderm Voluma lasts 2 years! (That's double the time of Juvederm Ultra and Ultra Plus). Like other hyaluronic acid products, Juvederm Voluma can be dissolved in the extremely unlikely event that you don't like the results. Voluma has been used in Europe for years, and now New York City can join in on the fun!
THE NEWEST HYALURONIC ACID FILLER FROM JUVÉDERM®:  JUVÉDERM® VOLUMA
Very gentle, extremely low chance of allergic reaction or sensitivity
Reversible
Immediate results
Last approximately 2 years
Best suited for volume restoration in the cheeks and temples
To correct skeletal facial asymmetry in the cheek, jaw and chin
WHO IS A GOOD CANDIDATE FOR VOLUMA?
The best candidates for facial fillers are patients with reasonable expectations.  Facial fillers can give a natural, rejuvenated look, but do not produce the dramatic results of surgical procedures such as facelift. Injectable fillers can be a perfect compliment to surgery or other procedures. When performed well, fillers can give you a very natural result with minimal downtime. Some common uses of filler include:
HOW IS THE PROCEDURE PERFORMED?
After a consultation, Dr. Liotta will help you decide which fillers are best for you. Procedures are performed in the office, using either ice or local numbing blocks. Topical numbing creams or can also used when necessary or requested. Dr. Liotta uses a combination of needles to inject, and non-traumatic microcannulas.
WHAT IS THE RECOVERY?
Recovery depends on the type of injectable, area of injection, and on your ability to heal. In general, there is minimal downtime. Swelling and injection site redness usually subside in less than an hour. Bruising is variable and can sometimes last for up to a week. Some injectables are reversible in the unlikely event that you don't like the results. Depending upon the type of filler used, and the area treated, results can last from 6 months to 2 years.
SCHEDULE A CONSULTATION WITH DR. LIOTTA
For more information on cosmetic injectables and dermal fillers, please contact us.  Dr. Liotta can meet with you in a confidential consultation to discuss treatment options and answer any questions you may have.